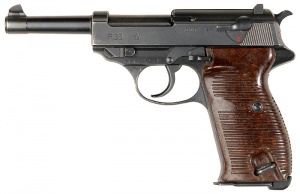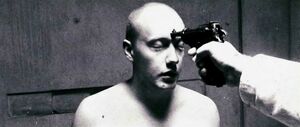 Walther P38

Manufacturer

Walther Arms

Service

1938-Present

Users

Nazi Scientist

Ammunition

9x19mm Parabellum

Appearance

Outpost (film)
The Walther P38 is a semi-automatic 9mm pistol designed and manufactured by Walther Arms during World War 2/WWII. It was issued to various branches of the Nazi military including the Wehrmacht and even the Schutzstaffel and replaced the increasingly complicated to manufacture Luger P08.
The Walther P38 was used by a Nazi scientist in order to kill a test subject of the Reanimation Machine, which would turn the soldier into a member of the Nazi Ghosts and was later seen in the hands of another scientist which didn't kill one of the soldiers; which called for an SS soldier to use his MP40 on the soldier.
German scientists use Walther P38s in the Nazi archival footage.