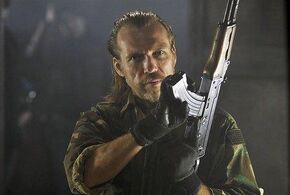 Prior
was a close friend and partner of
D.C.
He was second of command of the
mercenary
team that was hired by
Hunt
to help Hunt on his journey through an area known as
No Man's Land
.
Prior was one of the last surviving mercenaries at the S.S. Bunker (the others being D.C., Jordan, and Hunt). He is killed when he overextends his position during the final battle and gets swarmed by several Nazi Zombies/Ghosts.
Prior

Name/Nickname

Prior (possibly his last name)

Birth

--

Death

2008, The S.S. Bunker

Race/Ethnicity

Caucasian/American

Occupation

U.S. Marine (formerly), Mercenary

Faction

Affiliations

U.S. Marine Corps, Mercenary, Skirmish at the S.S. Bunker

Weapon