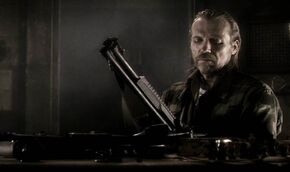 M1014

Manufacturer

Benelli Armi SPA

Service

1999-present

Users

Mercenaries

Ammunition

12 gauge shells

Appearance

Outpost (film)
The M1014 is a modern Italian, semi-automatic, 7 shell capacity shotgun used by Prior at the beginning of the final battle scene in the Outpost movie.
Only Prior is seen using the M1014.
Prior carries a Heckler & Koch FABARM FP6 shotgun in addition to his Norinco Type-56 rifle. The FABARM is fitted with a pistol grip.