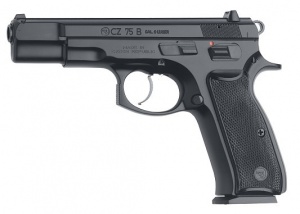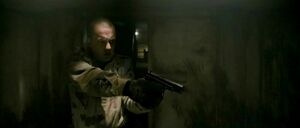 CZ 75B

Manufacturer

Česká zbrojovka

Service

1976-Present

Users

Ammunition

9x19mm Parabellum
9x21mm
.40 S&W

Appearance

Outpost
The
CZ 75B
is a semi-automatic pistol manufactured by Česká zbrojovka in Czechoslovakia. It is chambered in three rounds, the 9x19mm Parabellum, the 9x21mm and the .40 S&W with a magazine capacity between 12 and 26 rounds; depending on the version and the caliber that said version utilizes.
In Outpost; the only one to carry this as his sidearm along with his Heckler & Koch G36C was Jordan. He was seen with it in hand a couple of times during the film; however didn't fire the weapon.
Jordan (Paul Blair) and McKay (Michael Smiley) carry CZ 75B pistols as their sidearms.